In Spanish, cachibache is, by definition, a tool, a "something" that has been abandoned due to its futility or defects and, therefore, cataloged as inconsiderable or with little value. However, knowing that items are able to transcend its vital function once that we have given an emotional meaning, there is a place in the heart of the city of Toluca which since a bit more than 2 years ago, it has set a goal of putting back on the track the rights of cachibaches and rescuing the human value of objects exiled from the lives of those who once owned them. Ad hoc to the original idea, this place is called "Cachibache Caffé", and it is a small cafe and cultural forum.
Cachibache's concept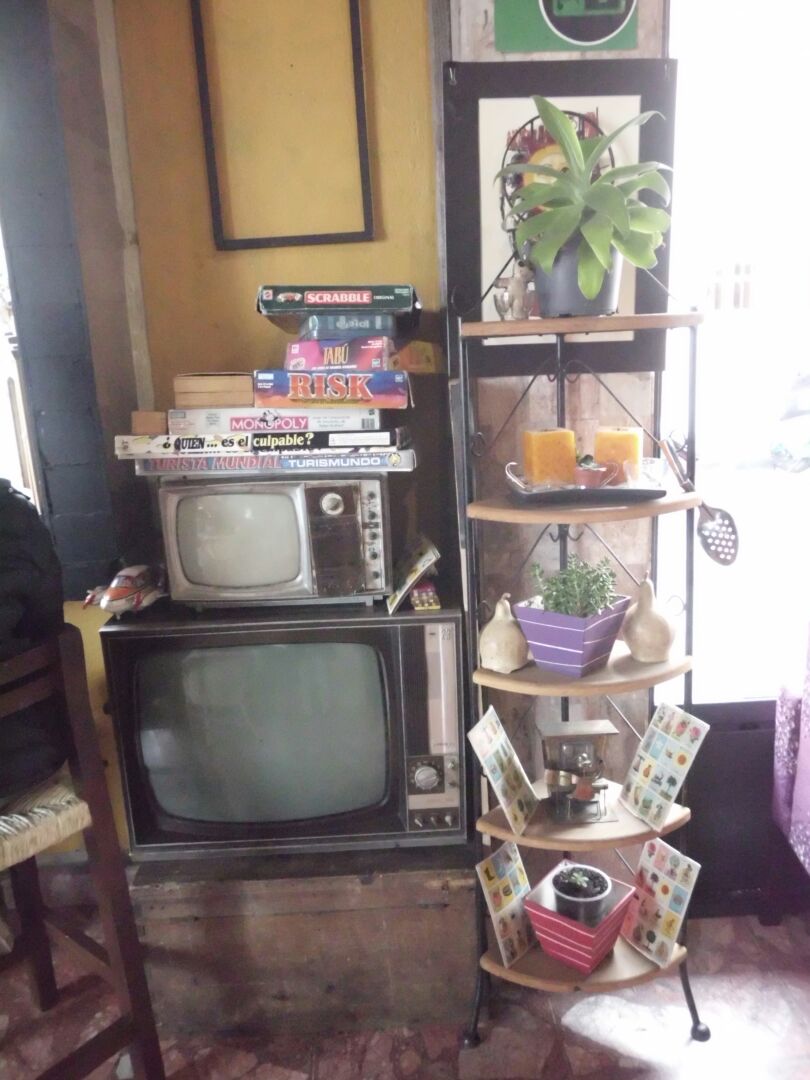 Here you will find all kind of antique pieces that have been restored and they got back their original purpose, or even better, they have gotten a different one: chairs and tables of forge and glass; some made of wood, knitted or made of nylon, with several sizes, colors and provenance. They are distributed around a small squared area; there are old inverted televisions, sewing machines and radios from old ages work as little tables and top off their decoration with a couple of bouquets that survive in the flower vases improvised with recycled glass bottles.
There are also little shelves made of huacales (boxes made of wood mostly used to transport vegetables or fruits) that show some other bric-a-bracs or items such as typewriters, lottery games, cards, scrabbles, plants, old telephones, pottery, books, newspapers, little effigies made of several materials. There, in one of the most lighted sides, a molcajete (ancient tool made of stone usually used to prepare sauces such as guacamole) filled with piled cobs fits perfectly with a deteriorated bascule.
The furniture and the objects that give such personality to Cachibache come from second hand stores till donations from people who give them in order to not let them in forgetfulness and their stories find a second chance, then, public can take any item they think it is worth to be preserved and the personnel are in charge of considering it and if it is needed, restoring it to give it a place in the cafe.
Then, if we take a look on the walls, vinyl of different sizes along with several posters, stickers, license plates, photographs and paintings of different local and foreign artists shine under a black roof illuminated by forged lamps which give that "half-lighted" atmosphere that romantic movies create very well.
Hats, purses, umbrellas, benches made of wood and armchairs of several colors and textures show off the style of this place which, since the sensory experience that it offers, we could define it as "an improvised style", a style that matches though, a style that takes you by surprise, a nice surprise though.
Surprises are on the walls, the tables, on the bar, on the decoration, in the corners, in the music of the 70's and 80's played most of the time through the speakers and in the cachibaches that get their value back or take a new meaning in front of us and, that is the purpose, "get the valuable from the old items back, the emotional value", as Laura says, who along with Marco and Pilar, are part of the team behind Cachibache Caffé; the three of them have mixed their imagination and creativity to set up this space, innovate it and constantly reconsider it, while they are the ones that also serve to the clients, they prepare the food, and organize the events.
The events… the astonishment of this little place comes not only from its appearance and its materialized memories that you bump into while you walk but also from expositions, concerts and recitals showed from time to time.
In this cultural forum, painters, poets, writers, guitarists and photographers of many different styles have been here to share their art, and that's why it isn't weird that one wall or even more stay clear in case that an artistic proposal arrives to the city. In this place any afternoon you might bump into a musical duet, a jazz, blues, reggae, rap, rockabilly, or rock gig; or even with a poetry reading aloud, promising a warm and intimate experience due to the cozy room.
And the food?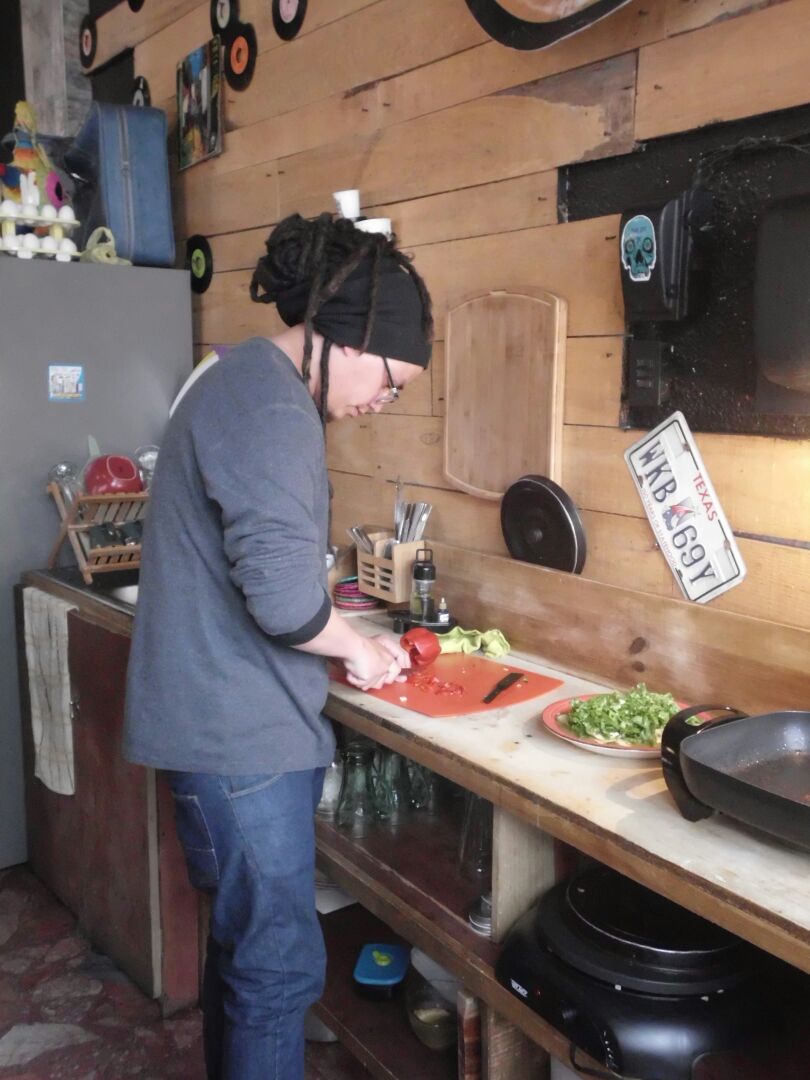 Well, the cachibaches part is understood, and about Caffé… you guessed, as its name sets it down, the raw material of the place is the coffee and it offers a great variety of it: from the quite popular American coffee to the foamy Irish Cachibache with a touch of whiskey and whipped cream, and going through the cappuccino, latte, mocha, macchiato and espresso. The Matcha latte stands out: a not very frequently asked for drink at the cafes around Toluca's city center and it uses green tea as the base of it.
Also you can find tisanes, teas, milkshakes, smoothies, Italian sodas, dry fruits infusions, such as "moras de la selva" (blackberries of the jungle), which is the specialty of the house, and different types of chocolates (cold or hot), without forgetting the traditional "chocolate abuelita".
Among the food offered, the sweet and salty crepes stand out as well as baguettes for meat lovers and vegetarians; the enchiladas and chilaquiles (Mexican meals prepared with tortilla, chicken, and covered with sauce which can be made of different chilli peppers) with cachibaches; one of the most ordered, which has bell pepper, corn and cheese. There are also molletes, sweet bread and craft biscuits.
Is it expensive? Definitely not. The prices of the menu range between the 15 and 50 pesos tops, and the food and treatment to the clients are excellent. The three cachibaches that are in charge of the place affirm that they give to their people a "homey" treatment.
In this forum and cafeteria there aren't ages as Laura says by quoting the motto of the place: "Todos somos cachibaches" (We all are cachibaches) and certainly you will find people from everywhere, status, professions, points of view and humor. From my experience, which I have repeated several times, this is one of the best spots that you can find in Toluca's city center if you want to spend a nice and quiet time, alone or accompanied.
Let the improvised and carefree style to show you how nice is to find the harmony between a bunch of objects that get their lost value back and drink, eat, talk, play lottery or scrabble under the wit of local and foreign artists, or just get relaxed while you listen to "Venus", released in 1969 by the Dutch band Shocking Blue, shaking the speakers of the room.
Cachibache Caffé is located in the corner of Nigromante st. and Pedro Ascencio. From Monday to Thursday it opens at 8:30 am and it closes at 10:00 pm; on Fridays and Saturdays it is opened from 8:30 to 11:00 pm; and on Sundays it is opened from 9:00 am to 8:00 pm. Plus, you can find it on Facebook, Twitter or Instagram as "Cachibache CAFFÉ".